The Coronavirus disease 2019 (COVID-19) caused by the SARS CoV2 virus (Severe Acute Respiratory Syndrome Coronavirus 2 ) was first reported in China in late December, 2019. It has has since evolved into a global pandemic (present all over the world).
Quick Facts About Covid 19:
It is highly contagious. It can spread very easily. Unlike previous SARS viruses, the SARS CoV2 settles in the nose and throat. This means it can spread when you talk or laugh or sing, particularly in confined spaces (super-spreader events).
Asymptomatic spread. People may have the virus and potentially spread the disease even when they do not have symptoms of Covid 19.
It is a new virus. However, in a short span of 6 months, scientists have already found out quite a lot about this virus. By January 12, 2020, the virus was sequenced in China. This means that the genetic signature of the virus is known. This is important from the perspective of testing and treatment. (1) Ref
Vaccine: There is no vaccine against the SARS CoV2 available now, but many promising ones are in development.
At present, there is no specific treatment available for Covid 19. However, the search is on!
The Coronavirus is here to stay. It is not going anywhere. This means that measures of physical distancing will remain even after the lockdown. For how long? We do not know as yet.
Wearing face masks help!
Young people are not immune to Covid 19, particularly if they are overweight and/or have a chronic disease.
Obesity, Type 2 Diabetes (T2DM) and high blood pressure are the commonest chronic diseases present (comorbidities) in people with Covid 19. In fact obesity and diabetes place you at a risk for several diseases, the coronavirus being one of the most important at this time.
According to several reports, patients with T2DM and the metabolic syndrome and obesity may have up to ten times greater risk of death when affected by Covid 19. The CORONADO study from France (2) Ref indicates that higher BMI was much worse for you than poor diabetes control or the use of certain medications. (Here is a link to my post on my other website).
Obesity is often present because of insulin resistance. Hence, to build your resilience against Covid 19, controlling insulin resistance and obesity would be extremely important for you. This in turn will also impact your blood pressure control and heart disease risk.
How Are These Conditions Related?
1) Metabolic inflammation:
Having high blood glucose levels and excess body fat (obesitis) increases your levels of metabolic inflammation. Metabolic inflammation impairs your ability to deal with an infection and prolongs recovery. This metabolic inflammation is possibly related to the increased release of inflammatory chemicals called cytokines.
2) Cytokine Storm in Covid 19
Cytokines are cell-to-cell signalling chemicals. A cytokine storm is an immune reaction gone completely haywire. A large number of inflammatory chemicals (like IL-6, TNF alpha) are released into the circulation in a short span of time. This leads to multi-organ failure and often death.
Cytokine storms are not unique to Covid 19. They have been reported in diverse conditions like multiple sclerosis (MS), Graft-versus-host disease, pancreatitis (3) Ref (4) Ref (5) Ref
The ability to predict a cytokine storm in Covid 19 would be extremely beneficial. A paper in the journal Lancet suggests using a score for risk prediction. The score was developed at a hospital in France (6) Ref
3) ACE 2 Receptors
When the SARS-CoV-2 virus (the virus responsible for the Covid 19 pandemic) enters the human body, it enters into cells with the help of two proteins, ACE2 and TMPRSS2. Though Covid 19 is considered predominantly to be a respiratory viral infection, the symptoms are diverse.
The presence of ACE2 receptors in organs like the liver, pancreas, kidneys, lung, heart, brain, gut etcetera, explain the wide range of symptoms of Covid 19, ranging from a loss of a sense of smell to heart rhythm abnormalities, worsening diabetes and respiratory failure.
The presence of ACE2 receptors in the pancreas probably explains the challenges of diabetes and Covid 19. It is possible that the SARS CoV2 virus directly attacks the pancreas, resulting in what endocrinologist Dr.Joshua D. Miller, MD described as a "new beast", as reported in Medscape (7) Ref. Studies have shown that some people with Covid 19 developed insulin deficiency states with new-onset diabetes, Type 1 diabetes or worsening diabetes control if they already had diabetes.
Obesity in the young and Covid 19
The title of this paper "Obesity could shift severe COVID-19 disease to younger ages" clearly indicates that people younger than 65 years who have excess body weight (and chronic diseases like diabetes, high blood pressure, heart disease) are equally at risk of a worse outcome, if they have Covid-19.
In a paper published on April 23, 2020, 85% of the patients with obesity required mechanical ventilation and 62% of the patients with obesity died (8) Ref. Why is this a concern?
1 ) Obesity is a major risk factor for a severe course of Covid 19 disease. As you can see in the image below, obesity is related to numerous Covid 19-related health challenges.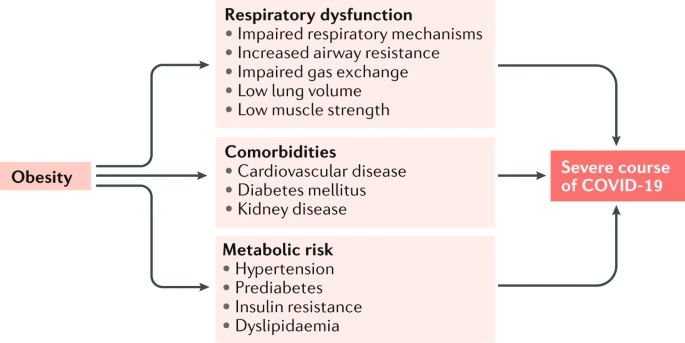 2) Worldwide, the incidence of obesity is very high. In 2016, according to the World Health Organization, 39% of people older than 18 years were overweight. In 2018 the total population in Canada with increased health risks due to excess weight was 63.1%. (9) Ref
Note on BMI:
The definition of obesity depends on ethnicity. A BMI of 24.9 is not normal for Asians.
BOTTOMLINE: WHAT CAN YOU DO?
If you have Covid19 and excess body weight, you are at a higher risk of dying or needing a ventilator. This is independent of age or poor prior diabetes control.
If you have diabetes, high blood pressure, chronic lung disease, heart disease or if you are a smoker, your risk for Covid 19 is high.
If you have insulin resistance, reducing your carbohydrate intake, using Time-Restricted Eating/Intermittent Fasting, prioritizing sleep, managing your stress and physical distancing will go a long way in reducing your risk for Covid 19. These are the strategies we use in our MDSProgram.
Other posts: